Vehicle Tests
From Torque Wiki
⧼monobook-jumptonavigation⧽
⧼monobook-jumptosearch⧽
Vehicle tests shows Mode $06 data regarding oxygen sensors and other vehicle tests that the ECU performs.
Not all ECUs support Mode $06, and the app will tell you if your ECU does not reply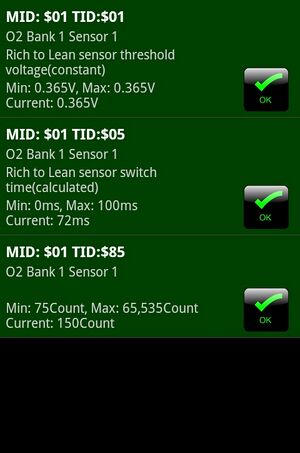 Test results view
This shows all the tests that the vehicle supports and has performed. Failed tests are in Red, and passed tests are highlighted in green.
O2 View
If you press menu, you can check individual O2 sensors (the graph at the bottom of the screen shows various timing/voltage information which you can then compare against the manufacturers specification, and there is a 'live' view at the top of the screen which shows the what the O2 sensor under test is currently doing.